Fort Benning Conducts 2023 Heat Forum [Image 1 of 3]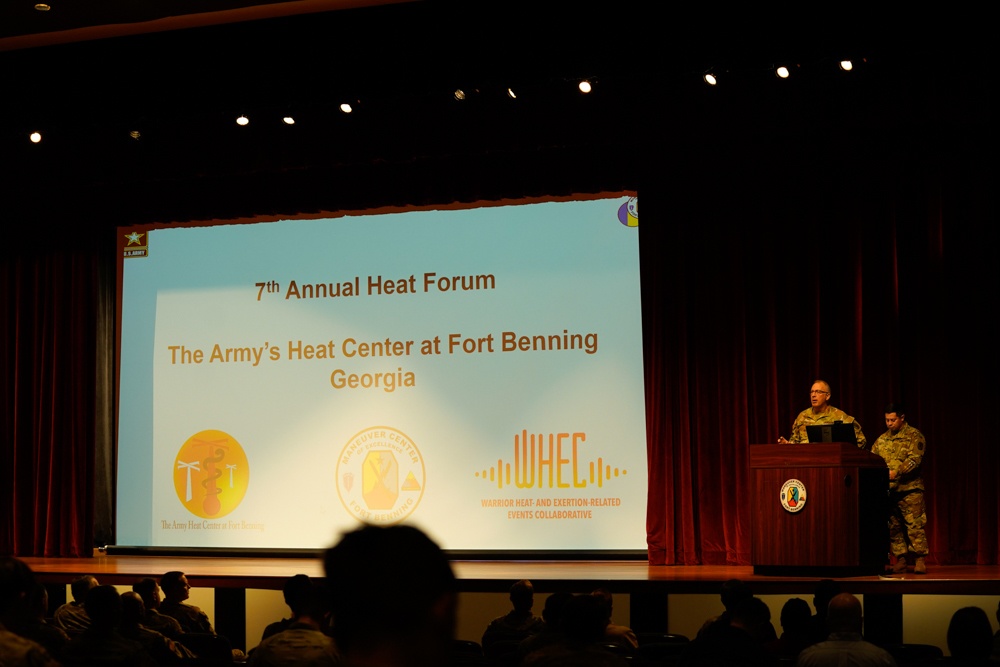 FORT BENNING, GA, UNITED STATES
02.22.2023
US Army Medical Activity-Fort Benning and the Army Heat Center hosted the 7th annual Heat Forum on Wednesday, Feb. 22, at McGinnis-Wickam Hall (Building 4) on the installation's Main Post.
The informational forum is focused on cultivating collaboration between medical and non-medical leaders to eliminate death from heat stroke and hyponatremia at Fort Benning and possibly other Department of Defense installations. Fort Benning is home of the U.S. Army Maneuver Center of Excellence. It is among the Army's largest training posts and is responsible for conducting Infantry and Armor Basic Combat Training, the Infantry and Armor Basic Officer Leadership Courses, Maneuver Captain's Career Course, the U.S. Army Airborne School, and Ranger School.
Martin Army Community Hospital sees some of the highest numbers of exertional heat illnesses of anywhere in the DoD. Consequently, its clinicians are uniquely experienced in mitigating heat related injuries and they're motivated to address this, often overlooked, niche of medicine. The annual Heat Forum is the foundation of the heat illness prevention program and is associated with a 70% reduction in exertional heat stroke casualties over the last 5 years. The Heat Forum provides a unique opportunity to share best practices developed at U.S. Army Medical Activity-Fort Benning across the DHA enterprise.
| | |
| --- | --- |
| Date Taken: | 02.22.2023 |
| Date Posted: | 02.23.2023 13:19 |
| Photo ID: | 7646259 |
| VIRIN: | 230222-D-XD829-001 |
| Resolution: | 1000x667 |
| Size: | 330.32 KB |
| Location: | FORT BENNING, GA, US |
| Hometown: | FORT MOORE, GA, US |
---
| | |
| --- | --- |
| Web Views: | 17 |
| Downloads: | 3 |
---
PUBLIC DOMAIN
This work, Fort Benning Conducts 2023 Heat Forum [Image 3 of 3], by Ronald Mooney, identified by DVIDS, must comply with the restrictions shown on https://www.dvidshub.net/about/copyright.