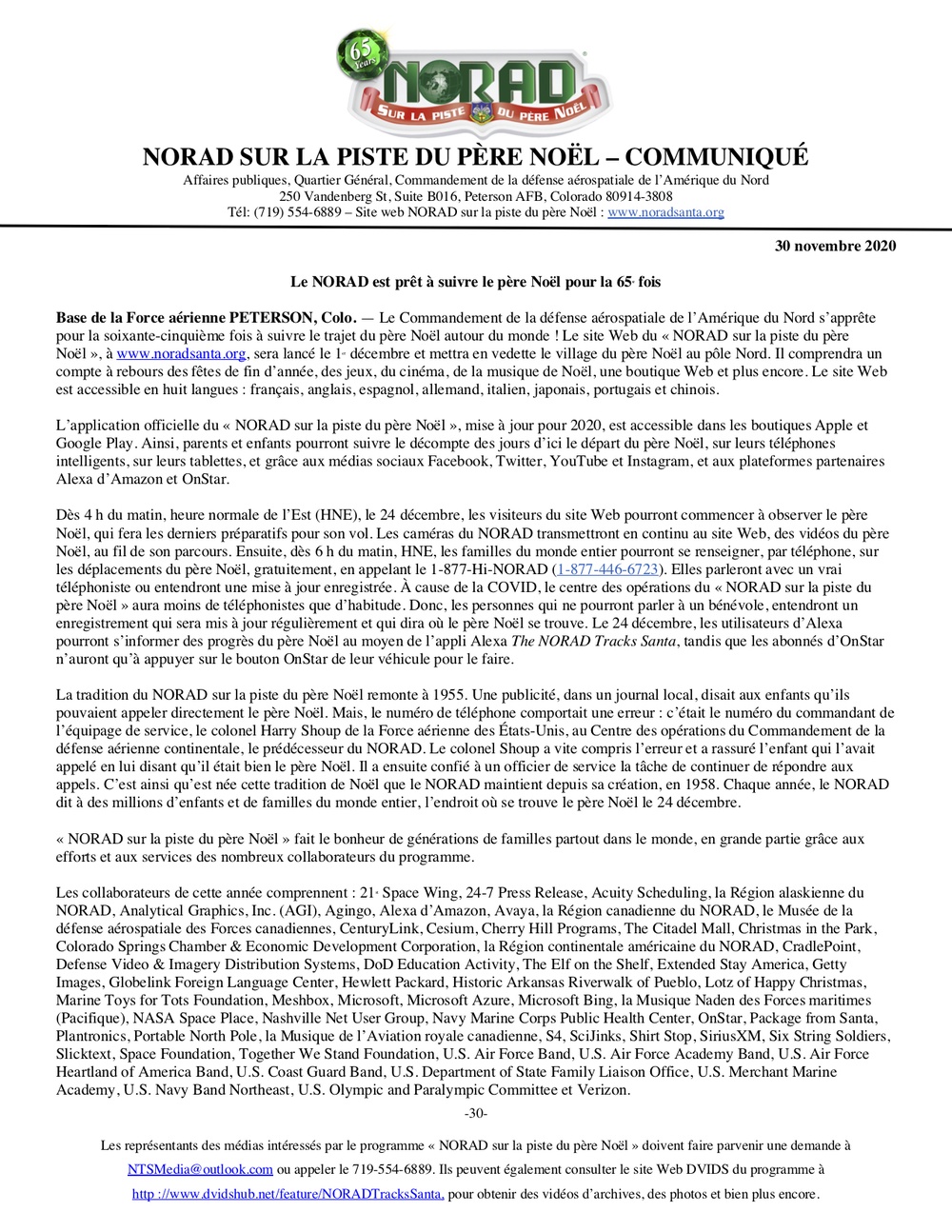 COLORADO SPRINGS, CO, UNITED STATES
11.30.2020
Courtesy Photo
Base de la Force aérienne PETERSON, Colo. — Le Commandement de la défense aérospatiale de l'Amérique du Nord s'apprête pour la soixante-cinquième fois à suivre le trajet du père Noël autour du monde ! Le site Web du « NORAD sur la piste du père Noël », à www.noradsanta.org, sera lancé le 1er décembre et mettra en vedette le village du père Noël au pôle Nord. Il comprendra un compte à rebours des fêtes de fin d'année, des jeux, du cinéma, de la musique de Noël, une boutique Web et plus encore. Le site Web est accessible en huit langues : français, anglais, espagnol, allemand, italien, japonais, portugais et chinois.

L'application officielle du « NORAD sur la piste du père Noël », mise à jour pour 2020, est accessible dans les boutiques Apple et Google Play. Ainsi, parents et enfants pourront suivre le décompte des jours d'ici le départ du père Noël, sur leurs téléphones intelligents, sur leurs tablettes, et grâce aux médias sociaux Facebook, Twitter, YouTube et Instagram, et aux plateformes partenaires Alexa d'Amazon et OnStar.

Dès 4 h du matin, heure normale de l'Est (HNE), le 24 décembre, les visiteurs du site Web pourront commencer à observer le père Noël, qui fera les derniers préparatifs pour son vol. Les caméras du NORAD transmettront en continu au site Web, des vidéos du père Noël, au fil de son parcours. Ensuite, dès 6 h du matin, HNE, les familles du monde entier pourront se renseigner, par téléphone, sur les déplacements du père Noël, gratuitement, en appelant le 1 877 Hi NORAD (1 877 446 6723). Elles parleront avec un vrai téléphoniste ou entendront une mise à jour enregistrée. À cause de la COVID, le centre des opérations du « NORAD sur la piste du père Noël » aura moins de téléphonistes que d'habitude. Donc, les personnes qui ne pourront parler à un bénévole, entendront un enregistrement qui sera mis à jour régulièrement et qui dira où le père Noël se trouve. Le 24 décembre, les utilisateurs d'Alexa pourront s'informer des progrès du père Noël au moyen de l'appli Alexa The NORAD Tracks Santa, tandis que les abonnés d'OnStar n'auront qu'à appuyer sur le bouton OnStar de leur véhicule pour le faire.

La tradition du NORAD sur la piste du père Noël remonte à 1955. Une publicité, dans un journal local, disait aux enfants qu'ils pouvaient appeler directement le père Noël. Mais, le numéro de téléphone comportait une erreur : c'était le numéro du commandant de l'équipage de service, le colonel Harry Shoup de la Force aérienne des États Unis, au Centre des opérations du Commandement de la défense aérienne continentale, le prédécesseur du NORAD. Le colonel Shoup a vite compris l'erreur et a rassuré l'enfant qui l'avait appelé en lui disant qu'il était bien le père Noël. Il a ensuite confié à un officier de service la tâche de continuer de répondre aux appels. C'est ainsi qu'est née cette tradition de Noël que le NORAD maintient depuis sa création, en 1958. Chaque année, le NORAD dit à des millions d'enfants et de familles du monde entier, l'endroit où se trouve le père Noël le 24 décembre.

« NORAD sur la piste du père Noël » fait le bonheur de générations de familles partout dans le monde, en grande partie grâce aux efforts et aux services des nombreux collaborateurs du programme.

Les collaborateurs de cette année comprennent : 21st Space Wing, 24-7 Press Release, Acuity Scheduling, la Région alaskienne du NORAD, Analytical Graphics, Inc. (AGI), Agingo, Alexa d'Amazon, Avaya, la Région canadienne du NORAD, le Musée de la défense aérospatiale des Forces canadiennes, CenturyLink, Cesium, Cherry Hill Programs, The Citadel Mall, Christmas in the Park, Colorado Springs Chamber & Economic Development Corporation, la Région continentale américaine du NORAD, CradlePoint, Defense Video & Imagery Distribution Systems, DoD Education Activity, The Elf on the Shelf, Extended Stay America, Getty Images, Globelink Foreign Language Center, Hewlett Packard, Historic Arkansas Riverwalk of Pueblo, Lotz of Happy Christmas, Marine Toys for Tots Foundation, Meshbox, Microsoft, Microsoft Azure, Microsoft Bing, la Musique Naden des Forces maritimes (Pacifique), NASA Space Place, Nashville Net User Group, Navy Marine Corps Public Health Center, OnStar, Package from Santa, Plantronics, Portable North Pole, la Musique de l'Aviation royale canadienne, S4, SciJinks, Shirt Stop, SiriusXM, Six String Soldiers, Slicktext, Space Foundation, Together We Stand Foundation, U.S. Air Force Band, U.S. Air Force Academy Band, U.S. Air Force Heartland of America Band, U.S. Coast Guard Band, U.S. Department of State Family Liaison Office, U.S. Merchant Marine Academy, U.S. Navy Band Northeast, U.S. Olympic and Paralympic Committee et Verizon.

-30-

Les représentants des médias intéressés par le programme « NORAD sur la piste du père Noël » doivent faire parvenir une demande à NTSMedia@outlook.com ou appeler le 719 554 6889. Ils peuvent également consulter le site Web DVIDS du programme à http ://www.dvidshub.net/feature/NORADTracksSanta, pour obtenir des vidéos d'archives, des photos et bien plus encore.
| | |
| --- | --- |
| Date Taken: | 11.30.2020 |
| Date Posted: | 11.30.2020 16:30 |
| Photo ID: | 6437861 |
| VIRIN: | 201130-F-ZZ999-613 |
| Resolution: | 1275x1650 |
| Size: | 1.35 MB |
| Location: | COLORADO SPRINGS, CO, US |
---
| | |
| --- | --- |
| Web Views: | 91 |
| Downloads: | 3 |
---
PUBLIC DOMAIN
This work, Le NORAD est prêt à suivre le père Noël pour la 65e fois [Image 2 of 2], must comply with the restrictions shown on https://www.dvidshub.net/about/copyright.