ASECAF announces the T- 7A "Red Hawk" during the Air, Space and Cyber Conference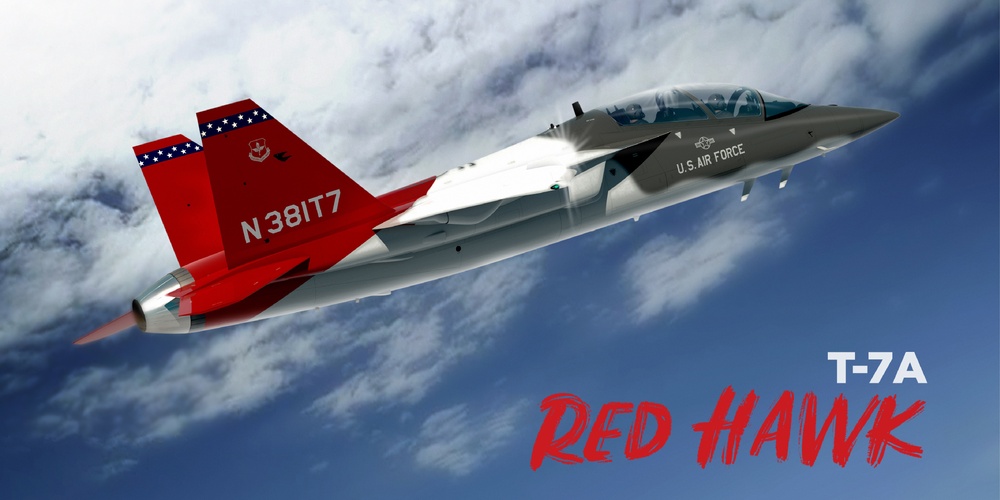 MD, UNITED STATES
09.16.2019
Courtesy Photo
Acting Secretary of the Air Force Matthew Donovan announces the T-
7A "Red Hawk" during the Air, Space and Cyber conference at the
National Harbor.

The name, Red Hawk, honors the legacy of Tuskegee Airmen, and
pays homage to their signature red-tailed aircraft from World War II.
The name is also a tribute to the Curtiss P-40 Warhawk, an American
fighter aircraft that first flew in 1938 and was flown by the 99th Fighter
Squadron, the U.S. Army Air Forces' first African American fighter
squadron.

The P-51 and P-40 are some of the most iconic fighters of their time.
Likewise, the T-7A will be the staple of a new generation of aircraft.
The Red Hawk offers advanced capabilities for training tomorrow's
pilots on data links, simulated radar, smart weapons, defensive
management systems, as well as synthetic training capabilities.

The first T-7A aircraft and simulators are scheduled to arrive at Joint
Randolph AFB, Texas, in 2023 as a replacement for the venerable T-
38C. And, the moniker "Red Hawk" is certainly fitting, as that species
of raptor is often seen soaring over our pilot training bases.
| | |
| --- | --- |
| Date Taken: | 09.16.2019 |
| Date Posted: | 09.16.2019 13:45 |
| Photo ID: | 5754020 |
| VIRIN: | 190916-F-F3227-0004 |
| Resolution: | 4267x2134 |
| Size: | 1.98 MB |
| Location: | MD, US |
---
| | |
| --- | --- |
| Web Views: | 513 |
| Downloads: | 79 |
---
PUBLIC DOMAIN
This work, ASECAF announces the T- 7A "Red Hawk" during the Air, Space and Cyber Conference, must comply with the restrictions shown on https://www.dvidshub.net/about/copyright.