Unit Ministry Team Supports 145th BSB [Image 1 of 3]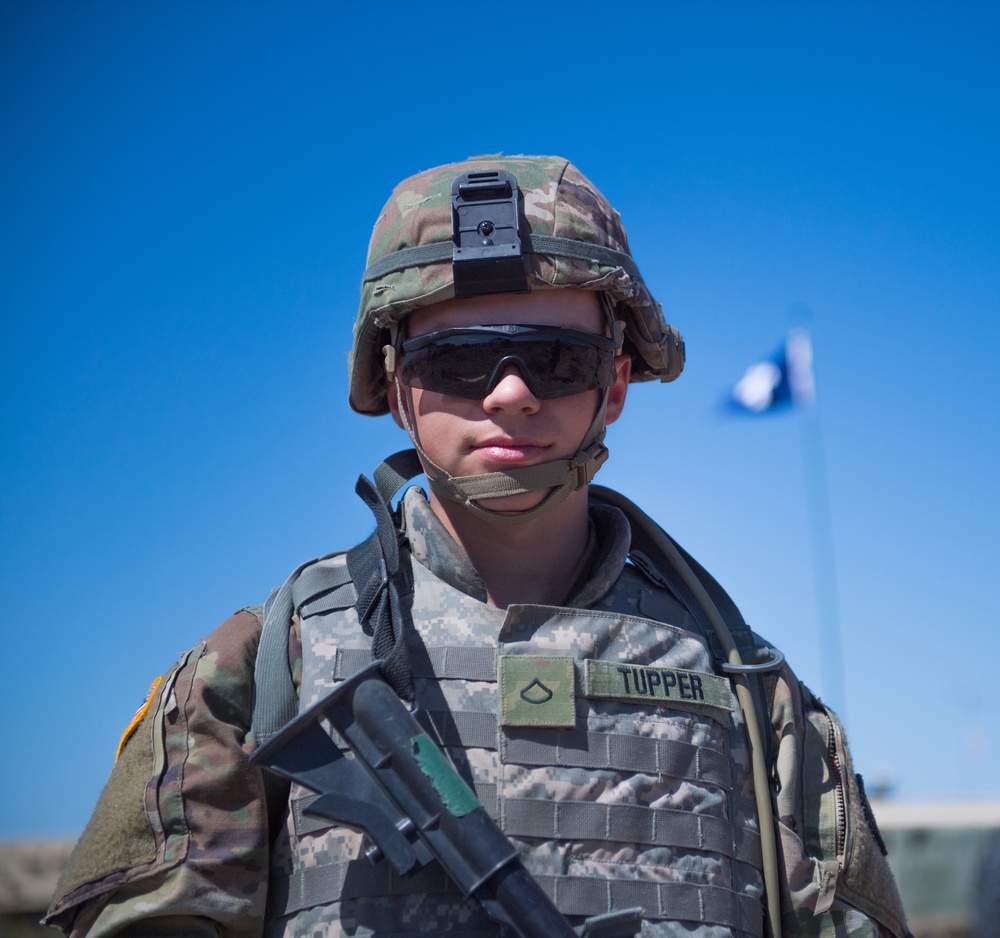 FORT IRWIN, CA, UNITED STATES
06.02.2019
Pfc. Nathan Tupper, a 56M religious affairs specialist in the 116th Cavalry Brigade Combat Team's 145th Brigade Support Battalion, poses for a photo outside of his unit ministry team's HMMWV June 2, 2019, at the National Training Center in Fort Irwin, California.

Tupper enlisted into the Idaho Army National Guard last year to help pay for college. He is studying biochemistry at the University of Idaho and said he enjoys the balance the National Guard provides him between being a Soldier and serving his country. He estimates that his education benefits cover three-quarters of his college expenses and uses scholarships to pay the remaining balance.

As a religious affairs specialist, Tupper duties include operating communication equipment and digital report systems for his unit ministry team, coordinating the circulation of the unit ministry team in the battlefield and protecting the chaplain in hostile environments because chaplains do not carry their own weapons.

Tupper is supporting his unit during its National Training Center rotation May 24 - June 20. Rotations at the NTC help build unit readiness and increase Soldier proficiency. Units from more than a dozen Army National Guard states are participating in the 116th Cavalry Brigade Combat Team's rotation. The 116th CBCT, one of five National Guard armor brigade combat teams, is headquartered in Boise, Idaho, and comprised of Soldiers from the Idaho, Montana, Nevada and Oregon Army National Guards.
| | |
| --- | --- |
| Date Taken: | 06.02.2019 |
| Date Posted: | 06.02.2019 22:16 |
| Photo ID: | 5427156 |
| VIRIN: | 190602-Z-ES969-048 |
| Resolution: | 3959x3712 |
| Size: | 9.29 MB |
| Location: | FORT IRWIN, CA, US |
---
| | |
| --- | --- |
| Web Views: | 35 |
| Downloads: | 1 |
---
PUBLIC DOMAIN
This work, Unit Ministry Team Supports 145th BSB [Image 3 of 3], by SSG Mason Cutrer, identified by DVIDS, must comply with the restrictions shown on https://www.dvidshub.net/about/copyright.