Cultural Support Assessment and Selection program. [Image 3 of 23]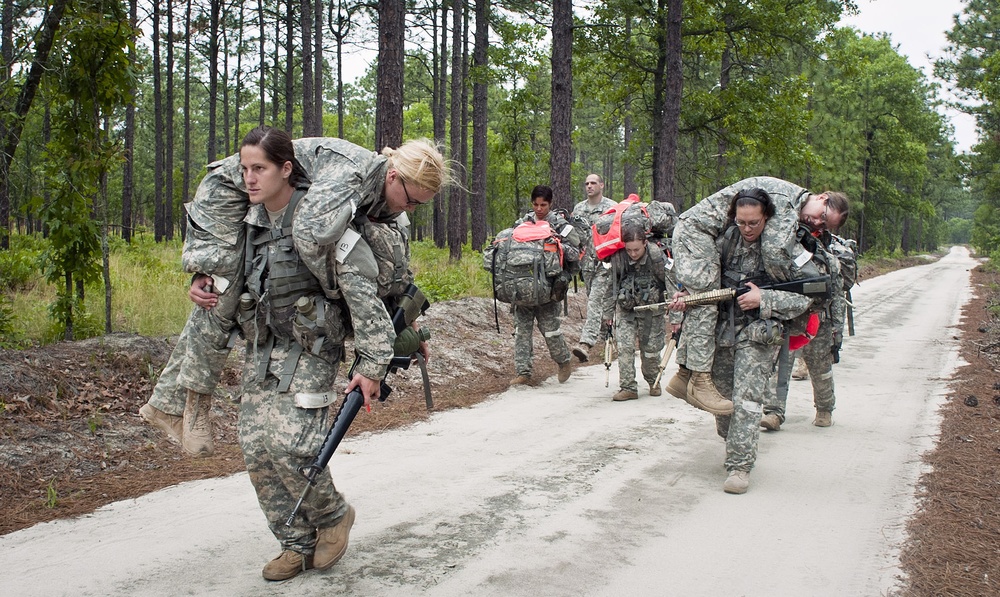 FAYETTEVILE, NC, UNITED STATES
05.12.2011
U.S. Army soldiers conduct simulated medical training during the Cultural Support Assessment and Selection program. The U.S. Army Special Operations Command's cultural support program prepares all-female Soldier teams to serve as enablers supporting Army special operations- combat forces in and around secured objective areas. The Cultural Support Assessment and Selection program is conducted by the U.S Army John F. Kennedy Special Warfare Center and School at Fort Bragg, N.C. and is five days of physical, mental and intellectual evaluations designed to determine a candidate's ability to maintain her composure, apply logic, communicate clearly and solve problems in demanding environments. During this time, candidates are expected to skillfully manage simultaneous tasks and comprehend ambiguous instructions while working under varying degrees of uncertainty with little feedback. The program is as much a mental test as it is a physical test. The desired outcome of assessment and selection is a candidate pool of female soldiers who are eager to serve with an Army special operations unit. Their primary task is to engage female populations in objective areas when such contact may be deemed culturally inappropriate if performed by a male service member. The program is conducted at Camp Mackall, in Hofman N.C. If selected, candidates are invited back to Fort Bragg as cultural support training students. The training period is between four and six weeks and focuses on cross-cultural communication skills. Students are also trained to negotiate, mediate, communicate through an interpreter and engage with local leaders in a deployed environment.
| | |
| --- | --- |
| Date Taken: | 05.12.2011 |
| Date Posted: | 07.07.2011 12:37 |
| Photo ID: | 424874 |
| VIRIN: | 110512-A-NR754-014 |
| Resolution: | 1979x1182 |
| Size: | 977.07 KB |
| Location: | FAYETTEVILE, NC, US |
---
| | |
| --- | --- |
| Web Views: | 314 |
| Downloads: | 55 |
---
PUBLIC DOMAIN
This work, Cultural Support Assessment and Selection program. [Image 23 of 23], by SSG Russell Klika, identified by DVIDS, must comply with the restrictions shown on https://www.dvidshub.net/about/copyright.
GALLERY
MORE LIKE THIS
CONTROLLED VOCABULARY KEYWORDS
TAGS