First MCAS Beaufort F-35B STOVL landing [Image 2 of 4]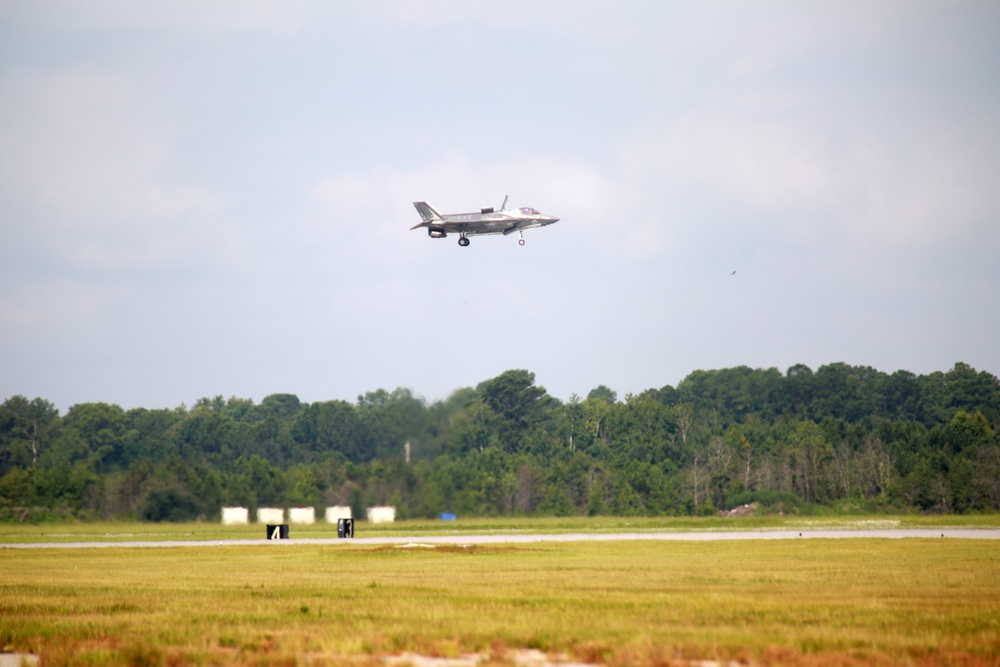 MARINE CORPS AIR STATION BEAUFORT, SC, UNITED STATES
08.01.2014
The first F-35B Lightning II Joint Strike Fighter Short Takeoff/Vertical Landing was performed aboard Marine Corps Air Station Beaufort, Aug. 1. The landing was executed by Marine Fighter Attack Training Squadron 501's (VMFAT-501) second permanent F-35B to transfer to the Lowcountry since the squadron relocated from Eglin Air Force Base, Fla. earlier this month. The STOVL capability of the F-35B Lightning II JSF allows the aircraft to land in austere environments and remote locations where few airfields are available for conventional aircraft, increasing the Marine Corps' expeditionary capabilities including the ability to operate from amphibious ships, a capability no other tactical aircraft possesses. Marine Fighter Attack Training Squadron 501 is the Marine Corps' first and only F-35B training squadron and is responsible for training F-35B pilots from all services to include international students. Marine Corps Air Station Beaufort is designated as the Marine Corps' Center of Excellence where all future fixed-wing pilots will complete initial training prior to designation as F-35B pilots. The F-35B Lightning II JSF will replace the Marine Corps' aging legacy tactical fleet. In addition to replacing the F/A-18A-D Hornet, the Marine Corps will replace the AV-8B Harrier and EA-6B Prowler, essentially necking down to one common tactical fixed-wing aircraft. The integration of the F-35B/C strike fighters will provide the dominant, multi-role, fifth-generation capabilities needed across the full spectrum of combat operations to deter potential adversaries and enable future naval aviation power projection.
| | |
| --- | --- |
| Date Taken: | 08.01.2014 |
| Date Posted: | 08.01.2014 14:18 |
| Photo ID: | 1475946 |
| VIRIN: | 140801-M-EK666-977 |
| Resolution: | 5760x3840 |
| Size: | 8.09 MB |
| Location: | MARINE CORPS AIR STATION BEAUFORT, SC, US |
---
| | |
| --- | --- |
| Web Views: | 77 |
| Downloads: | 21 |
---
PUBLIC DOMAIN
This work, First MCAS Beaufort F-35B STOVL landing [Image 4 of 4], by Marcy Sanchez, identified by DVIDS, must comply with the restrictions shown on https://www.dvidshub.net/about/copyright.
GALLERY
MORE LIKE THIS
CONTROLLED VOCABULARY KEYWORDS
TAGS