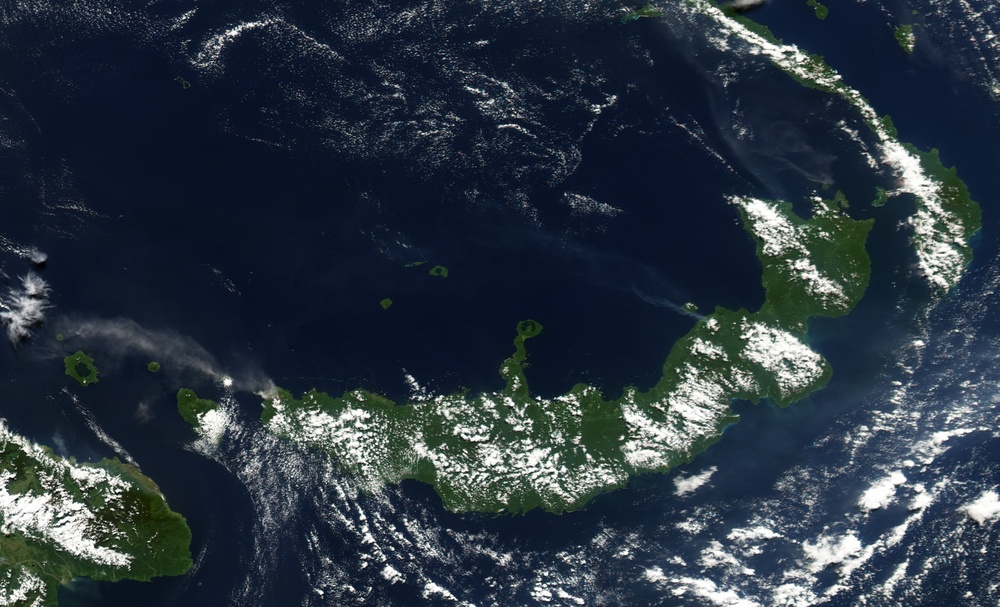 WASHINGTON, DC, UNITED STATES
07.26.2011
Courtesy Photo
Three volcanoes in Papua New Guinea's West New Britain province spewed ash on June 21, 2005. The Moderate Resolution Imaging Spectroradiometer modis.gsfc.nasa.gov (MODIS) , flying on NASA's aqua.nasa.gov/ Aqua satellite captured this image of Langila, Ulawun, and Rabaul the same day. At the time MODIS captured this image, Langila showed the biggest plume of volcanic ash, followed by Ulawun. Both volcanoes are enlarged below the main image. In all cases, winds pushed the ash clouds to the northwest, over the ocean.
Unlike ash from a wood fire, pubs.usgs.gov/fs/fs027-00/ volcanic ash is neither soft nor fluffy. It consists of hard, abrasive particles of glass and rock that pose serious health hazards to humans and livestock.
Langila, Ulawun, and Rabaul regularly supply the local neighborhood with ash and excitement. Langila is one of New Britain's most active volcanoes, and it has produced mild or moderate eruptions since the 19th century. Recorded eruptions of Ulawun date back to the 18th century, with large eruptions generating lava and pyroclastic flows occurring since 1970. Before 1994, Rabaul's caldera sheltered New Britain's largest city, but the city had to be temporarily abandoned after powerful, simultaneous eruptions of nearby Vulcan and Tavurvur Volcanoes.
NASA image courtesy Jesse Allen, based on data from the rapidfire.sci.gsfc.nasa.gov MODIS Rapid Response Team at NASA GSFC
NASA Identifier: newbritain_amo_2005172
| | |
| --- | --- |
| Date Taken: | 07.26.2011 |
| Date Posted: | 10.10.2012 14:46 |
| Photo ID: | 700891 |
| Resolution: | 2964x1800 |
| Size: | 1.61 MB |
| Location: | WASHINGTON, DC, US |
---
| | |
| --- | --- |
| Web Views: | 5 |
| Downloads: | 0 |
---
PUBLIC DOMAIN