Medics work to stabilize a simulated combat casualty at Global Medic 21-02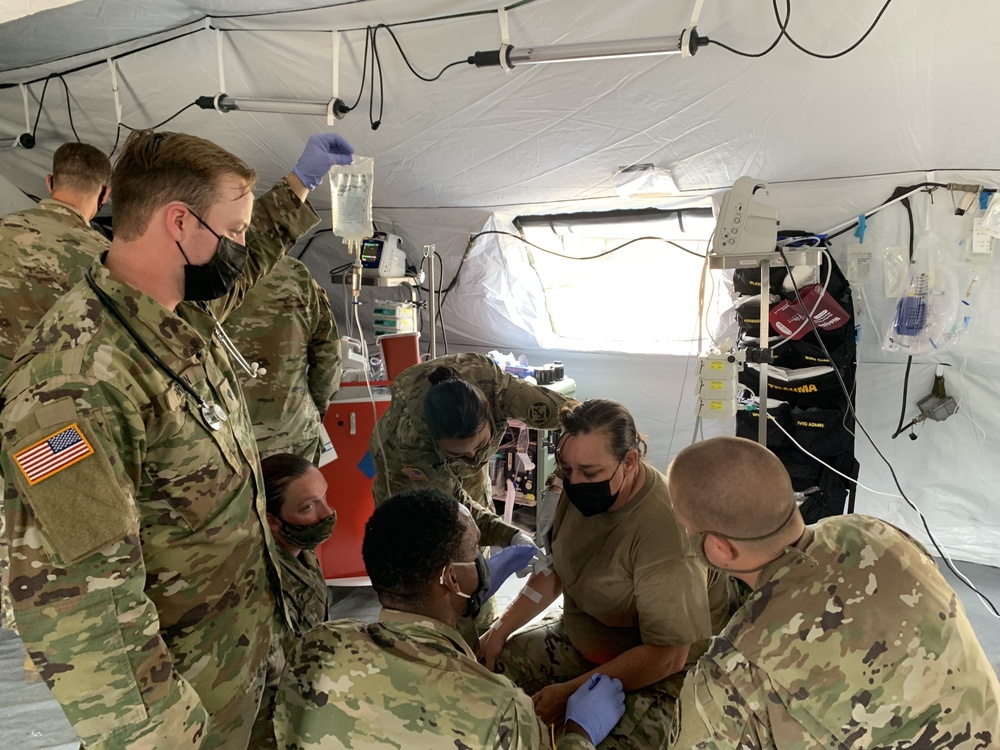 TOMAH, WI, UNITED STATES
08.11.2021
Army Reserve Soldiers assigned to the 18th Field Hospital based in Fort Story, Va., and 810th Hospital Center based in Tuscaloosa, Ala., stabilize a simulated combat casualty played by Sgt. 1st Class Kristina Boettcher, of the Medical Readiness and Training Command's 7306th Medical Exercise Support Battalion, during Global Medic at Fort McCoy, Wis., Aug. 11, 2021.

Boettcher, a combat medic specialist from San Antonio, Texas, is a member of the effects and enablers team that provides varied and challenging casualty simulations required to test exercise participants while Observer / Coach Trainers monitor and evaluate their performance during the scenarios in order to provide feedback and mentoring to the units.

In this scenario, Boettcher plays the part of a military working dog handler that is wounded and additionally distraught over her working dog's injuries. Veterinary Soldiers perform life-saving critical care for the dog, as medics attempt to calm and reassure the handler. The scenario challenges the Soldiers to treat her physical wounds while also managing the psychological trauma she is experiencing because of her working dog's injuries.

Global Medic is part of CSTX 78-21-04, a 15-day Combat Support Training Exercise that ensures Army Reserve units and Soldiers are trained and ready to deploy and bring capable, combat-ready, and ready-now units in support of the Army and our joint partners anywhere in the world. The Medical Readiness and Training Command executes Global Medic as part of the Army Reserve Medical Command's larger mission to provide trained, equipped, and combat ready units and medical personnel which are ready now to support the total force on the battlefields of today and tomorrow.
| | |
| --- | --- |
| Date Taken: | 08.11.2021 |
| Date Posted: | 08.23.2021 12:30 |
| Photo ID: | 6778647 |
| VIRIN: | 210811-A-HN714-1002 |
| Resolution: | 4032x3024 |
| Size: | 3.47 MB |
| Location: | TOMAH, WI, US |
| Hometown: | SAN ANTONIO, TX, US |
---
| | |
| --- | --- |
| Web Views: | 36 |
| Downloads: | 4 |
---
PUBLIC DOMAIN
This work, Medics work to stabilize a simulated combat casualty at Global Medic 21-02, by MAJ Tomas Rofkahr, identified by DVIDS, must comply with the restrictions shown on https://www.dvidshub.net/about/copyright.