We owe him everything we've got... and then some.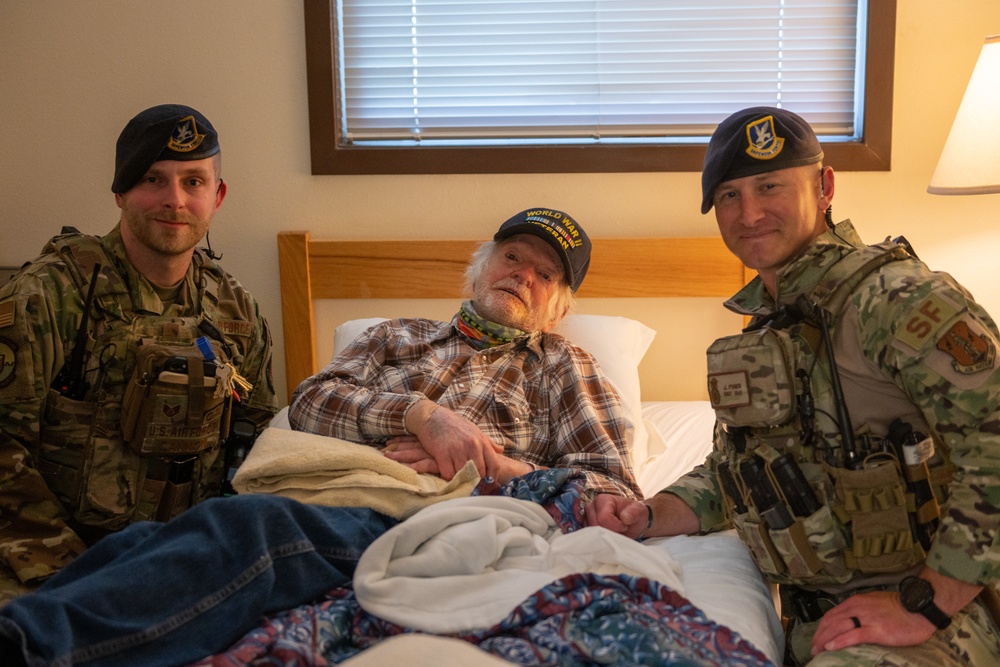 124th Security Forces Squadron defenders went above and beyond to assist a 96-year-old World War II veteran.

Retired Capt. William Brand was a P-47 Thunderbolt pilot with the Eighth AirForce in Okinawa, Japan, during WWII. He now lives in Hailey, Idaho, but regularly travels to Gowen Field in Boise, Idaho to stay at the on-base lodging on days that appointments at the Boise VA Medical Center.

On May 6, 2021, 124th SFS defenders received an emergency call to the Gowen Field Lodging Facility. As Brand was checking in for a routine stay at the Gowen Field Lodging Facility he experienced a medical emergency, which left this WWII veteran with special requirements and a limited ability to properly care for himself and coordinate his VA appointments..

124th SFS defenders took it upon themselves to organize hourly shifts to check on the well-being of Brand, which included assisting with tasks of daily-living, providing essential needs and helping to coordinate with the VA for medical attention. (U.S. Air National Guard photo by Staff Sgt. Mercedee Wilds)
| | |
| --- | --- |
| Date Taken: | 05.05.2021 |
| Date Posted: | 06.30.2021 12:26 |
| Photo ID: | 6715303 |
| VIRIN: | 210630-Z-YH478-0013 |
| Resolution: | 5595x3730 |
| Size: | 5.96 MB |
| Location: | US |
---
| | |
| --- | --- |
| Web Views: | 62 |
| Downloads: | 8 |
---
PUBLIC DOMAIN
This work, We owe him everything we've got... and then some., by SSgt Mercedee Wilds, identified by DVIDS, must comply with the restrictions shown on https://www.dvidshub.net/about/copyright.