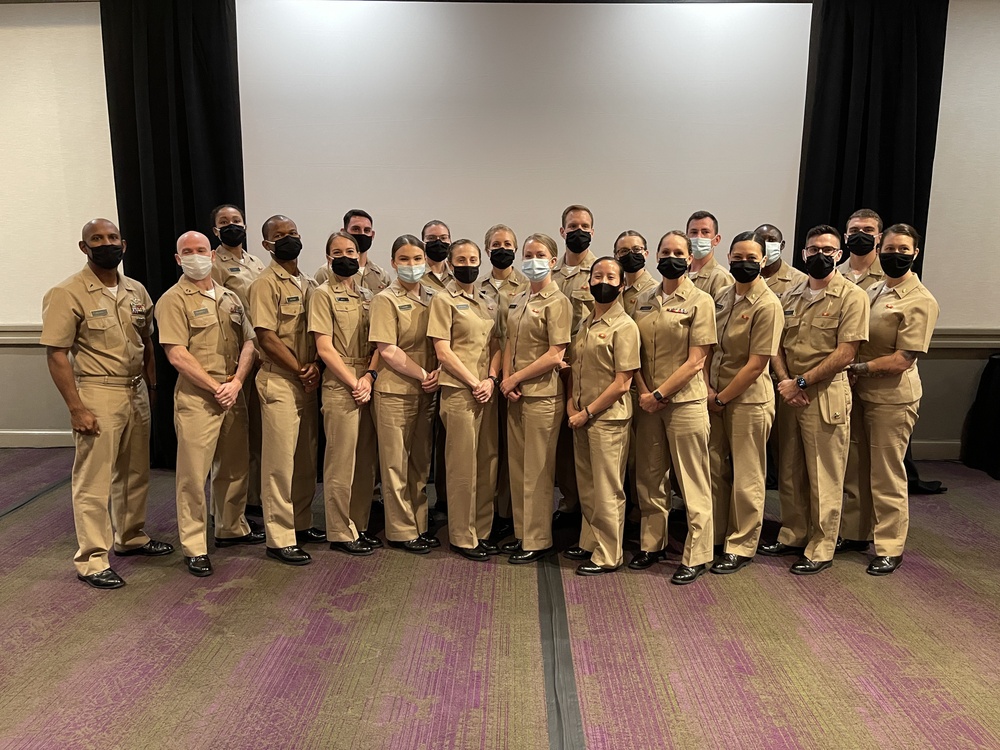 BETHESDA, MD, UNITED STATES
04.09.2021
BETHESDA – (April 28, 2021) – The Navy Surgeon General, Rear Admiral Bruce Gillingham's initiative to invest in junior medical department officers at the start of their careers, provides a solid foundation in operational readiness medicine in support of the warfighter. Thus, Naval Medical Leader and Professional Development Command (NMLPDC), located in Bethesda, Maryland, developed and implemented the Navy Medicine (NM) 101 course, for newly accessed Navy medical department officers immediately following Officer Development School (ODS) in Newport, Rhode Island, and prior to them reporting to their first duty station.
After a successful pilot in September 2020 and with the surgeon general's approval, the NMLPDC team hosted the inaugural NM 101 course in April 2021. This initial course brought together 21 new naval medical department officers who completed the five-day indoctrination course, using strict COVID protocols, at an off-site training location in Rockville, Maryland.
This five-day, in-residence course, directly aligns with the Navy surgeon general's four priorities of people, platforms, performance, and power, and orients these officers of all corps to the fundamentals and strategies related to operational readiness across the spectrum of military operations.
Students received training in topics in readiness, medical planning and operations, military health service support capabilities, medical administration, patient movement, global health engagement, medical logistics, and leadership principles foundations. NM 101 course is design to enhance their knowledge, skills, and abilities prior to an assignment to various platforms such as operational units, military treatment facilities, and other locations.
Upon completion of the course, the students participated in a detailed course satisfaction survey which yielded promising results for the future; one student remarked, "Before this course, I had absolutely little to no real knowledge of the operational aspect of my job nor the possibilities that are available to me to deploy. I am leaving this course extremely motivated and proud to be in a job that equips me with such opportunities…" Lastly, this course is positioned to influence a new generation of Navy medicine officers, and focus on operational readiness and a particular officers' role in the execution of the National Defense Strategy.
| | |
| --- | --- |
| Date Taken: | 04.09.2021 |
| Date Posted: | 04.28.2021 12:43 |
| Photo ID: | 6620047 |
| VIRIN: | 210409-N-WB720-116 |
| Resolution: | 4032x3024 |
| Size: | 2.88 MB |
| Location: | BETHESDA, MD, US |
---
| | |
| --- | --- |
| Web Views: | 939 |
| Downloads: | 5 |
---
PUBLIC DOMAIN
This work, Navy Medicine 101 2021-1 Class Graduation, by CPO Emilio Velez, identified by DVIDS, must comply with the restrictions shown on https://www.dvidshub.net/about/copyright.