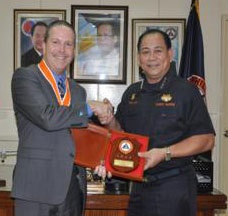 MANILA, PHILIPPINES
10.10.2010
Philippine Coast Guard commandant Adm. Wilfredo D. Tamayo hailed the visit of United States Coast Guard Rear Adm. Christopher J. Tomney, the director of Joint Inter-Agency Task Force West, Jan. 7, at the PCG headquarters in Manila, describing it as "fruitful" as they discussed more areas of "cooperation." The JIATF West is based in Nimitz-MacArthur Pacific Command Center in Hawaii. Tamayo and Tomney in their talk on areas of cooperation, delved on "cross-training programs" and "conduct of mobile training to improve and effectively address maritime challenges." The Philippines, an archipelago and a maritime country, consists of more than 7,000 islands with a total of some 36,000-kilometer coastal stretch, one of the world's longest. Tomney was presented a PCG plaque of appreciation by Tamayo during the former's visit to the PCG headquarters. In welcoming Tomney, Tamayo was joined by Vice Adm. Ramon Liwag, PCG vice commnan for operations; Rear Adm. Edmund Tan, PCG vice commandant for administration; Commodore Gilbert Rueras, commander of PCG Maritime Safety Services Command, Commodore Lino Dabi, commander of PCG Marine Envionmental Protection Command, Commodore Aaron Reconquista, commander of PCG Air Group who was a classmate of Rear Admiral Tomney at the U.S. Coast Guard Academy, class 1986, and Cdr. Timoteo Borja, commanding officer of the PCG Intelligence Group. Tomney thanked the entire PCG for the warm welcome and reception accorded him by the PCG command.
| | |
| --- | --- |
| Date Taken: | 10.10.2010 |
| Date Posted: | 01.10.2011 20:20 |
| Photo ID: | 356665 |
| VIRIN: | 101010-F-#####-086 |
| Resolution: | 228x216 |
| Size: | 14.5 KB |
| Location: | MANILA, PH |
---
| | |
| --- | --- |
| Web Views: | 89 |
| Downloads: | 0 |
---
PUBLIC DOMAIN
This work, Admiral Tamayo, JIATF West Director Tomney Discuss Areas of Cooperation, by Member: 1088910, identified by DVIDS, must comply with the restrictions shown on https://www.dvidshub.net/about/copyright.