Soldier Achievement in support of Operation Full Court Press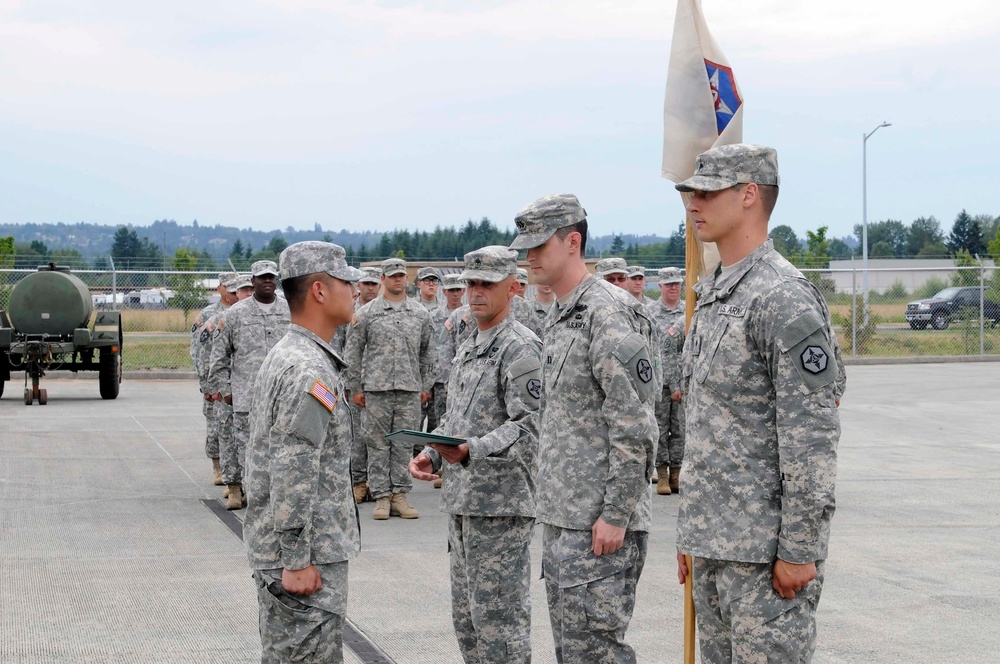 MARYSVILLE, WA, UNITED STATES
06.28.2015
Sgt. Jong H. Kim, a personnel specialist in the HHC 364th Sustainment Command (Expeditionary), received an Army Achievement Medal during the unit's battle training assembly June 28. Kim supported a promotion board last summer held at the 96th Sustainment Brigade in Salt Lake City. "I reviewed and corrected more than 100 promotion packets before they went to the board members," Kim said. "This helped make sure that all those specialists and sergeants had the best opportunity to make their promotion packets shine for the board members." The experience helped Kim learn more about what it takes to get promoted. Kim, who was promoted to sergeant last fall, said he did not have a lot of help when he put his own packet together. Now, he said, he knows the importance of giving Soldiers the kind of guidance that he missed when they are going before a board. Each month, the 364th ESC sends junior enlisted Soldier packets to a promotion board, which are held at its subordinate unit headquarters to ensure every eligible Soldiers gets considered for advancement.
| | |
| --- | --- |
| Date Taken: | 06.28.2015 |
| Date Posted: | 07.01.2015 14:59 |
| Photo ID: | 2040253 |
| VIRIN: | 150628-A-QL246-945 |
| Resolution: | 3216x2136 |
| Size: | 436.56 KB |
| Location: | MARYSVILLE, WA, US |
---
| | |
| --- | --- |
| Web Views: | 12 |
| Downloads: | 1 |
---
PUBLIC DOMAIN
This work, Soldier Achievement in support of Operation Full Court Press, by Member: 1037842, identified by DVIDS, must comply with the restrictions shown on https://www.dvidshub.net/about/copyright.
MORE LIKE THIS
CONTROLLED VOCABULARY KEYWORDS
TAGS