SPAWAR, Industry discuss budget environment and IT tech authority topics at roundtable
Naval Information Warfare Systems Command (NAVWAR)
Date: 04.05.2012
Posted: 04.06.2012 14:22
News ID: 86397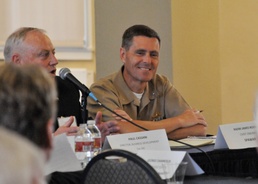 SAN DIEGO - Space and Naval Warfare Systems Command leadership and senior industry experts discussed key defense-related issues during the quarterly SPAWAR-Industry Executive Network roundtable April 5.

The SIEN consisted of two panels and included dialogue on the current fiscal environment, ramifications facing the defense industry and partnering opportunities available as a result of SPAWAR's directive to be the single IT technical authority for the Navy.

Attended by more than 300 local military and industry leaders, the event was moderated by George Chamberlin, editor of the San Diego Daily Transcript, and provided a lively venue for in-depth discussions on the challenges affecting defense budgets.

The budget panel included Tim Dowd, director for contracts; Steve Dunn, director for finance; Jim Churchill, Command and Control Program Office deputy program manager; Brad Feldman, president, Cubic Global Tracking Solutions; Marv Langston, principal, Langston and Associates; John Pettit, corporate lead executive, Northrop Grumman; John S. Yi, chairman and chief executive officer, KES Incorporated.

"The SPAWAR budget is down $200 million from the previous fiscal year," said Dunn, a member of the Senior Executive Service. "As a result, every single activity and every single program is affected."

Budgets may be declining but capability requirements have not changed. As a result, partnerships become a vital link to providing the Information Dominance capability necessary for the warfighter. Technical authority provides the discipline and rigor needed to facilitate the transition of new Information Dominance technology to the fleet and helps control program costs over their lifecycles.

"Our Achilles' heel is the vulnerability of our networks. With a single IT tech authority, the ad hoc nature of our networks goes away and we can focus on providing capability to the warfighter," said Rear Adm. Jim Rodman, SPAWAR chief engineer. "We need to be able to see the capability gaps. With standards in place, we can drive integration and interoperability into the system from the bottom up."

The directive for a single technical authority for IT systems, communications, space and enterprise networks supports Department of Defense and Navy efficiency initiatives. The modifications converted multiple Navy command IT approval and procurement processes to a single Navy enterprise workflow with SPAWAR as the technical authority. This approach supports effective expenditure of funding to acquire IT while providing visibility of all Navy IT purchases.

The tech authority panel consisted of Rodman; Rear Adm. Pat Brady, SPAWAR commander; Capt. Joe Beel, commanding officer, SPAWAR Systems Center (SSC) Pacific; Carmella Keeney, SSC Pacific technical director; Mark Balmert, director strategic planning and business development, AMSEC; Paul Cassani, director, business development Tac C4I, Lockheed Martin; Marv Langston, principal, Langston and Associates; and Duane Roth, chief executive officer, Connect.

The quarterly event was established to engage industry and government at the executive level. With more than 200 years of combined federal acquisition and defense industry experience, the panel was hosted in partnership with the San Diego chapter of the National Defense Industry Association to facilitate an open and strong dialog between SPAWAR personnel and the San Diego defense industry.

As the Navy's Information Dominance systems command, SPAWAR designs, develops and deploys advanced communications and information capabilities. With more than 8,900 active duty military and civil service professionals located around the world and close to the fleet, SPAWAR is at the forefront of research, engineering, acquisition and support services that provide vital decision superiority to our forces at the right time and for the right cost.