Headquarters Platoon, the unsung heroes
1st Armored Brigade Combat Team, 34th Red Bull Infantry Division
Date: 12.01.2011
Posted: 12.29.2011 03:30
News ID: 81830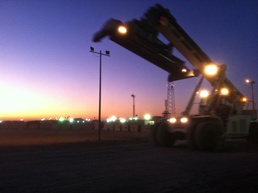 CAMP VIRGINIA, Kuwait - Since the dawn of war, providing logistics and support to the men and women on the battlefield has not been an easy feat. Advances in technology have greatly aided in the process of supporting and supplying forward deployed troops. Yet one thing has not changed, the need for a Headquarters Platoon that is dedicated to the mission and able to sustain unit readiness during steady-state operations.

It has been reported it takes seven non-combat support soldiers for a single combat soldier to maneuver on today's battlefield and participate in the fight. If that statement is true, the 19 soldiers in Headquarters Platoon have brilliantly supported the 117 soldiers that make up the nine convoy escort teams in Company C, 1st Combined Arms Battalion, 194th Armor.

When this Sauk Centre-based unit "Crazyhorse," arrived in Kuwait in late July of 2011, they instantly rolled into their assigned mission of convoy escort security – assisting in ensuring supplies and equipment are transferred safely in and out of Iraq. This mission set required 86 percent of the company's soldiers to support the CET mission of safeguarding logistical convoys, enabling the U.S. to fulfill its agreement of withdrawing all troops from Iraq by Dec. 31, 2011. This task could not have happened without a highly motivated and multifunctional Headquarters Platoon.

The Headquarters Platoon is made up of a variety of soldiers, each with a unique skill set that ensures mission success. The five primary functions of this platoon are: mission guidance and support from the tactical operations center, vehicle repair and truck maintenance, unit armorer (weapons repair), supply, administration and production control. Each functional area is demanding and requires Headquarters soldiers to remain flexible and on standby at any given time, 24-hours a day, seven days a week.

"These soldiers have been putting in countless hours for the betterment of this company and the convoy escort team mission," said Capt. John M. Hobot, commander of Crazyhorse. "Whether it's been administrative duties, maintenance on the trucks or battle tracking the CETs on the roads of Iraq, they have done an outstanding job, and we would be combat ineffective without the Headquarters Platoon. Sometimes the CET mission overshadows what these individuals accomplish back here in Kuwait, and none of our success could be achieved without each and every one of these soldiers. There is an abundant amount of detail that goes on behind the scenes while conducting a mission, from start to finish."

A ton of detail indeed. Before a convoy escort team can be sent out on the road, they must be assigned a mission by the team who operates in the tactical operations center.

"When a CET mission is allocated to our company from battalion, within about 30 minutes, we have a CET assigned based on our mission rotation schedule, and within 24 hours we are fully engaged in the planning preparation that goes into a CET mission," said Spc. Michelle L. Cheney, TOC specialist from St. Stephen, Minn. "A lot goes on after the initial receipt of a mission, but a very important aspect of our job is monitoring and tracking the missions using a type of technology that allows us to view and stay in touch with our CETs called the Blue Force Tracker (a global positioning tool that allows the commander to keep command and control of the unit). So far we have captured the movement control data of 21 million gallons of fuel, 9,148 semi-truck loads of logistical supplies traveling 312,186 miles. We have been extremely busy, but it is now starting to slow down here in December."

Another important aspect of keeping Crazyhorse rolling out on the roads is the maintenance on the trucks, close to 50 trucks to be exact. Traveling over 300,000 miles on the roads of Iraq causes wear and tear on the armored beasts called Caiman Mine Resistant Ambush Protected vehicles, which Crazyhorse uses to provide convoy escort security. It is no simple task.

"We've serviced 400 trucks since we took over our duties here at Camp Virginia," said Staff Sgt. Russell A. Mulholland of Brainerd, Minn., maintenance support team chief and lead mechanic for Crazyhorse. "Each truck is checked for faults before it is sent out on the road. They are also inspected before and after every mission and serviced every 6,000 miles. Our mechanic team has put in ten hour days over the past four months to ensure the trucks are in the best condition possible."

The Crazyhorse MST has helped save soldiers lives through an aggressive Caiman MRAP conversion process, ensuring 15 additional armor kit upgrades were completed on their fleet. The MST's attention to detail and leadership provided soldiers with the very best armor protection against the imminent Iraq threat of explosively formed penetrators and improved explosive devices.

To keep maintenance on the trucks flowing smoothly, it is key to have parts and equipment on hand and available at a moment's notice.

"When the soldiers come to turn in a truck after a mission, I receive a list of issues that need to be checked out," said Spc. Sarah A. Imdieke of Sauk Centre, Minn., Crazyhorse production controller. "This means a work order needs to be created. After the mechanics discover what the problem is, they will come tell me what parts they need. I check to see if we have the parts available. If we don't have them on-hand, then I place an order. So far, I've placed over 250 orders since we've arrived. It's a big responsibility, and I enjoy knowing my work here at Camp Virginia is making a difference for the soldiers out on the road and for everyone back home."

Another integral part of the operation Headquarters Platoon has is maintaining the supplies of the entire company.

"Like a doctor, we are on call every day so we can support the convoy escort mission," said Staff Sgt. Ryan T. Hegreberg, non-commissioned officer in charge of Crazyhorse supply. Hegreberg, who hails from Willmar, Minn., played a vital role in command supply discipline. To date, Crazyhorse has turned in $6.1 million in supplies and equipment that was not being used or has simply been found tucked in a random connex here at Camp Virginia.

"There are 138 soldiers in our company. This means there is a lot of clothing, equipment and supplies that need to be disbursed, and we have to track it all," said Hegreberg. "Not only that, but each time a CET goes out on mission, we are there to assist in handing out weapons and ammo from the vault. The process keeps us busy, but it's a challenge we have undertaken. I have two other soldiers, Spc. Baker and Sgt. Okland, who support me in making sure we complete our mission; they do a fantastic job. Sgt. Okland, for example, has repaired more than 70 weapons systems in just four short months, enough said on his dedication to mission."

Hegreberg is not the only soldier with a tracking list. Administrative duties and keeping track of who has accomplished the required training courses is a task perfected by Sgt. Kaisone Ithivongkham. He has not been with the company very long, but if you ask Ithivongkham for a first, middle, last name or even a birthday of a soldier in Crazyhorse, there is a good chance he could tell you off the top of his head.

"Crazyhorse has a certain amount of training and courses they have to complete to stay up-to-date on current procedures and tactics used on the battlefield," said Ithivongkham, who hails from Baxter, Minn. "It's my job to track their progress and act as a safeguard to the personal information we have on soldiers. Another key aspect of my role is acting as chief mail clerk for the company; the soldiers have been receiving a lot of support from back home. I know they all are looking forward to returning back to their loved ones."

Ithivongkham is not one to brag, but his commander likes bringing up his accomplishments.

"Sgt. Ithivongkham (aka Sgt. Itchy) exceeded expectations in understanding the needs of his deployment team that holds 24 different military occupational specialty skill sets. Sgt. Itchy supervised the successful administration and processing of nine basic allowance for housing adjustments, two assignment incentive pay fixes, 44 hazardous duty pay corrections, 53 non-commissioned officer evaluation reports, 33 enlisted promotion system packets and 17 soldier extensions totaling more than $150,000 in bonus pay outs. The sum total of his oversight to these and other important soldier issues is critical to the morale of our unit and is evident in our re-enlistment success," said Hobot.

Headquarters Platoon is guided with leadership by its executive officer, 2nd Lt. Joseph P. Blaker, and platoon sergeant, Sgt. 1st Class Joseph E. Cheney, and veterans of the first company deployment to Iraq during Operation Iraqi Freedom, Capt. John M. Hobot and 1st Sgt. Timothy P. Flahave.

As the Crazyhorse convoy escort security mission comes to an end, the unit training plan for the next few months will focus not only on honing specific military occupational skill sets that are perishable, but will polish other essential leadership skills that get neglected in a steady state of war.