Tippin tips hat to troops
15th Sustainment Brigade
Date: 11.30.2009
Posted: 11.30.2009 03:46
News ID: 42147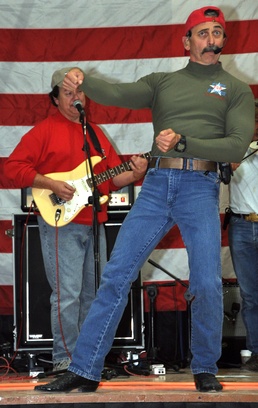 CONTINGENCY OPERATING LOCATION Q-WEST, Iraq — Country music singer and Pensacola, Fla., native, Aaron Tippin performed for and met with troops and civilian contractors at the Morale Welfare and Recreation tent, Nov. 27.

The concert on Q-West was one stop on the singer's Iraq "In Overdrive" tour, named after his latest album of the same name, and the tour marked the latest of several to the country.

"It's either seven or eight times," Tippin said, unable to recall exactly how many times he toured in Iraq.

"I come to see the guys and gals ... that's the greatest reward," he said, referring to the troops he performed for.

Tippin said that performing for troops started his career.

"[This] gives me a chance to bring it home," he said.

Retired Marine Lt. Col. Bill Cowan, a Fox news analyst and Sacramento, Calif., native, told a few jokes and praised the professionalism and performance of the young troops of today before introducing Tippin to begin the show.

"You all are going to be the next Great Generation," he said.

He encouraged the Troops to serve again by running for public office when they one day leave service.

Tippin played a number of his chart-topping songs and covers of other popular country songs. He also made use of a semitrailor horn rigged to a portable air compressor via plastic pipes for occasional humorous effect.

Spc. Jon Voelkel, a fueler for Headquarters and Headquarters Company, 15th Special Troops Battalion, 15th Sustainment Brigade, 13th Sustainment Command (Expeditionary), was one of the Soldiers who enjoyed the show.

"It's awesome! Got everybody together ... [it's] a big morale bonus," he said.

"It takes the monotony from the everyday grind."