U.S., Japan collaborate for upcoming Northern Viper exercise
35th Fighter Wing Public Affairs
Date: 08.02.2017
Posted: 08.03.2017 02:06
News ID: 243509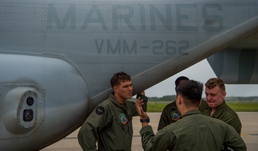 More than 3,500 Japan and U.S. military service members will conduct a bilateral and joint exercise showcasing the defense capabilities of their alliance on the island of Hokkaido, Aug. 10 to 28.

Approximately 500 Marines and 18 aircraft will be supported by and operate out of the 35th Fighter Wing, Misawa Air Base.

During the first iteration of exercise Northern Viper 2017, Marines from the 3rd Marine Division and 1st Marine Aircraft Wing will join the Japan Ground Self-Defense Force's 11th Brigade during the three-week deployment to further solidify regional security.

Additionally, 35th FW personnel and F-16 Fighting Falcons will conduct rotary wing close air support trainings with joint terminal attack controller support at Draughon Range.

"We are improving our readiness not only in the air, but as a logistical support team," said Col. R. Scott Jobe, the 35th Fighter Wing commander. "We are hosting about 500 Marines on-station and will support them and their aircraft during their tenure here. We are in a prime location for contingency purposes and this exercise will only build upon our readiness in the case a real-world scenario occurs."

Forward-deployed forces from the 3rd Marine Division, based in Okinawa, will be firing the High Mobility Artillery Rocket System (HIMARS) for the first time ever in Japan at Yausubetsu, located in Hokkaido. The Marine Aircraft Group 36, 1st MAW will participate with a variety of aircraft to include the MV-22 Osprey, the UH-1 Huey and AH-1Z Cobra.

NV17 is designed to exercise the U.S. and Japan's interoperability as a bilateral, joint defense force and to execute relocation training to mainland Japan. During this relocation, Misawa AB is testing its readiness as a power projection hub, while preparing and supporting follow-on forces and various rotary-wing aircraft.

"This exercise is an opportunity to showcase the joint and bilateral capabilities we have throughout the Indo-Asia-Pacific region," said Jobe. "Misawa is a hub for forward-deployed operations if a real-world scenario were to occur; it is vital for us to maintain security and enhance our combined abilities with our Marine and Japanese partners."

Various community engagement events, including a beach cleanup and a Hirosaki orphanage visit, are scheduled throughout the duration of the exercise with participation from U.S. Air Force, U.S. Navy, U.S. Army and U.S. Marine Corps service members.

Planned media opportunities are set for the following dates:

Aug. 10 – Opening Ceremony and bilateral interview in Hokudaien, Japan
Aug. 16 – Bilateral live-fire in Hokudaien, Japan
Aug. 20 – High Mobility Artillery Rocket System live-fire in Yausubetsu, Japan.


Media interested in attending any event must send their full name, agency, event they wish to attend, email, make and model of their vehicle and license plate to IIIMEFPAO@usmc.mil. For additional information or questions regarding this exercise, email 1st Lt. Joshua P. Hays at Joshua.Hays@usmc.mil.