Secretary of the Army meets with 126 Press Camp Headquarters in Baghdad
Multi-National Force Iraq Public Affairs
Date: 09.30.2008
Posted: 09.30.2008 02:42
News ID: 24318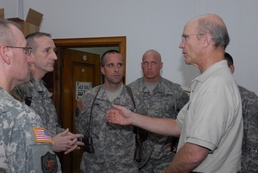 By Staff Sgt. Gabriel Morse
Multi-National Forces Iraq Public Affairs

Baghdad, Iraq - The 126 Press Camp Headquarters, Michigan Army National Guard is located in Augusta, Mich. at Fort Custer Training Center. The 126 PCH is commanded by Lt. Col. Timothy Houchlei and the senior enlisted soldier is Sgt. Maj. Garreth C. Gross.

The mission of the Press Camp Headquarters is to provide command and control staff, planning and supervision of Press Camp Operations at a Corps/Theater level for operations performed by public affairs units. It is equivalent to a Battalion Headquarters. The PCH serves as a liaison with the media. Functions include guarding OPSEC, providing briefings, advisories, press releases and video documentation of press conferences. The PCH is also responsible for registering and escorting news media representatives, assisting in deploying media pools and coordinating logistical support for a media operations center.

The Press Camp Headquarters mission is clearly media oriented. Operations are supported by Mobile Public Affairs Detachments and a Broadcast Public Affairs Detachment as well as other augmentees which report to the PCH Commander for duty within a Press Camp/Media Center, Joint Information Bureau or Allied Press Information Center. The PCH is a headquarters element that forms the nucleus of a Media Support Center, responsible to the gaining commander for facilitating media coverage of operations.

While deployed to Iraq, the 126 PCH is attached to the Strategic Communication Section of Multi-National Force-Iraq. The 126 PCH operates the Combined Press Information Center. There are several sections within the CPIC.

The Command/Headquarters section which provides command and control, administrative, supply, and maintenance support for all sections operating within the CPIC structure.

The Credentialing section - Credentials all media operating within the Iraq theater and to issue them media badges.

Embed section - Is responsible for embedding and tracking all media within the OIF Theater of operations.

Escort section - Responsibilities include the coordination and safe transportation of civilian media representatives within the International Zone.

IMET section - The Iraqi Media Engagements Team is a 15 person, joint, service-led, contractor-supported effort. Their mission is to facilitate media outreach with MNF-I and its subordinate organizations and other U.S. and Iraqi government agencies and the Iraqi and pan-Arab press.

Press Desk - Provides timely and accurate information, within the constraints of a wartime environment, to media representatives by sending out press releases and media advisories.