Bosses fly high with the Air National Guard
158th Fighter Wing
Date: 08.15.2015
Posted: 08.20.2015 14:50
News ID: 173763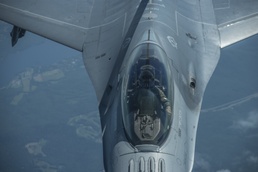 SOUTH BURLINGTON, Vt. - Soaring through the clouds, two KC-135 Stratotanker refueling jets were accompanied by three F-16 Fighting Falcons. Civilian employers from Vermont and New Hampshire had the rare opportunity of not just getting to ride in the refueling tanker, but also to be a part of the refueling mission Aug. 14, 2015.

The Vermont and New Hampshire Air National Guard bases joined forces under the guidance of their Employer Support for the Guard and Reserve (ESGR) chapters to recognize nominated employers of their Airmen to participate in the Boss Lift 2015. Comprised more than 4,600 volunteers, the ESGR is a bridge between military and civilian employers and act as liaisons when it comes to employing military personnel in the civilian workforce.

"It was an incredible way to show employers what drill status guardsmen do during military training and a great way to say thank you for their support and sacrifice," said Dave Wheel, Vermont's ESGR employer support specialist. "Overall, the reception and flight were a great success. It was a great time for everyone."

Having a working relationship between civilian employers and the National Guard is key in having an operational military and a supportive community. For the employers in both Vermont and New Hampshire, the Boss Lift was created to give a very special thank you for all the work and support they have shown.

"It's a give and take relationship between the civilian and military work forces, the difficulty in having a military member leave is sometimes irreplaceable," said Bobbi Gillespie, a manager from a market in Richmond, Vt. "The military members give their lives to protect us and give us their time to work in the community as civilians as well."

National Guard members, unlike their active-duty counterparts, typically live and work in their communities as civilians when not doing their two days a month and two weeks out of the year military training. Most of the time Airmen can plan out military dates with their employers; however, natural disasters, emergencies, and deployments requiring Airmen to leave their civilian jobs can occur at any moment and for significant amounts of time.