Soldiers, environment love WAG bag
2nd Brigade Combat Team, 10th Mountain Division Public Affairs
Date: 08.14.2007
Posted: 08.14.2007 08:41
News ID: 11801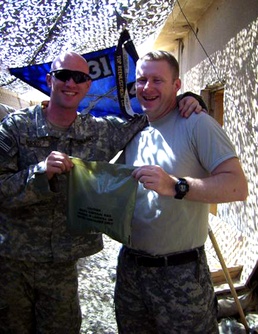 By Sgt. Chris McCann
2nd BCT, 10th Mtn. Div. (LI) PAO
Multi-National Division – Center

CAMP STRIKER, Iraq — It happens. It hits fans. Bears do it in the woods. But where can a Soldier do it when there are no portable toilets?

Enter the WAG bag.

The official name is the "Waste Aggregation and Gelling" bag, and it was developed by three residents of Bozeman, Mont., in 1999. Bill and Pam Phillips and Mike Groff were motivated by a desire to reduce human impact in wilderness areas, and they developed the bags – and the "Pooh Powder" that fills them – to be functional and easily biodegradable.

The military began issuing WAG bags to Soldiers in Iraq due to the lack of flush toilets in most of the country. Soldiers have long built outhouse-style toilets, and movies about the Vietnam War made the burning of waste in 55-gallon drums from underneath them famous. Outhouses are still built, but with the new bags, there is no need for troops to burn the waste.

Each bag comes in a plastic packet that contains the funnel-shaped WAG bag itself, an opaque plastic bag for disposal, toilet paper, and a hand sanitizing wipe. Inside the WAG bag is a quantity of Pooh Powder.

When waste comes in contact with it, the powder gels the liquid waste, encapsulates the solid waste, neutralizes odors and begins the decay process. Pooh Powder is a mix of non-toxic, polymer-based absorbent similar to that in disposable diapers, an organic decay catalyst and the odor neutralizer, custom-engineered for the purpose by Phillips Environmental Products.

The resealable disposal bag was included to allow backpackers to carry their waste out with them or put it in a landfill, and it reduces the spread of bacteria through containment of human waste pathogens.

The best part is that Soldiers like the WAG bags – as much as anyone can like something other than a real flush toilet.

"Burning the drums was pretty nasty," said Chief Warrant Officer Jeffrey Moore, a native of Columbus, Ohio, and counter-improvised explosive device targeting officer for 2nd Brigade Combat Team, 10th Mountain Division (Light Infantry) out of Fort Drum, N.Y. "We had to pour kerosene into it, and stir it with an aluminum pole from a camo net. It's much better to use the WAG bags. I'd even like to get some when I go home, for hunting."

Sgt. 1st Class Jesus Rada, a Los Angeles native and 2nd BCT engineer section non-commissioned officer, recalled his time in Iraq in 2003 when burning the waste was still the preferred method of disposal.

"You had to wear gloves and your chemical protective mask and check the direction of the wind to avoid the smoke and the smell. It was brutally hot, too – whoever was stirring would have to step back for a while every few minutes. WAG bags make it easier and cleaner, and the individual takes care of it himself, so no one else has to."

Second BCT sends out about 250 boxes of the coveted bags every month, depending on mission needs, said Capt. John Brooks, a native of Mobile, Ala., general supplies officer for 210th Brigade Support Battalion, 2nd BCT. The 210th BSB moves the bags, along with all other supplies, on logistics patrols to the far-flung battle positions and forward operating bases around the 2nd BCT's area of operations.

Soldiers cite the WAG bag's ease of use, the fact that flies are not attracted to it, and the lack of odor as major points.

The 2nd Battalion, 14th Infantry Regiment, 2nd BCT, took over an abandoned Russian thermal power plant on the banks of the Euphrates River in October. At first they were using barrels as latrines, but they switched to the bags as soon as they became available.

Spc. Scott Swain, a native of Vacaville, Calif., a supply specialist with the battalion, said he was very happy about the change to WAG bags.

"They're more sanitary and easier – they're just a lot better," Swain said.

For the foreseeable future, WAG bags will keep Soldiers going. So to speak.