NHHC Receives Escort Carrier Artifacts from WWII Veterans, Families [Image 1 of 39]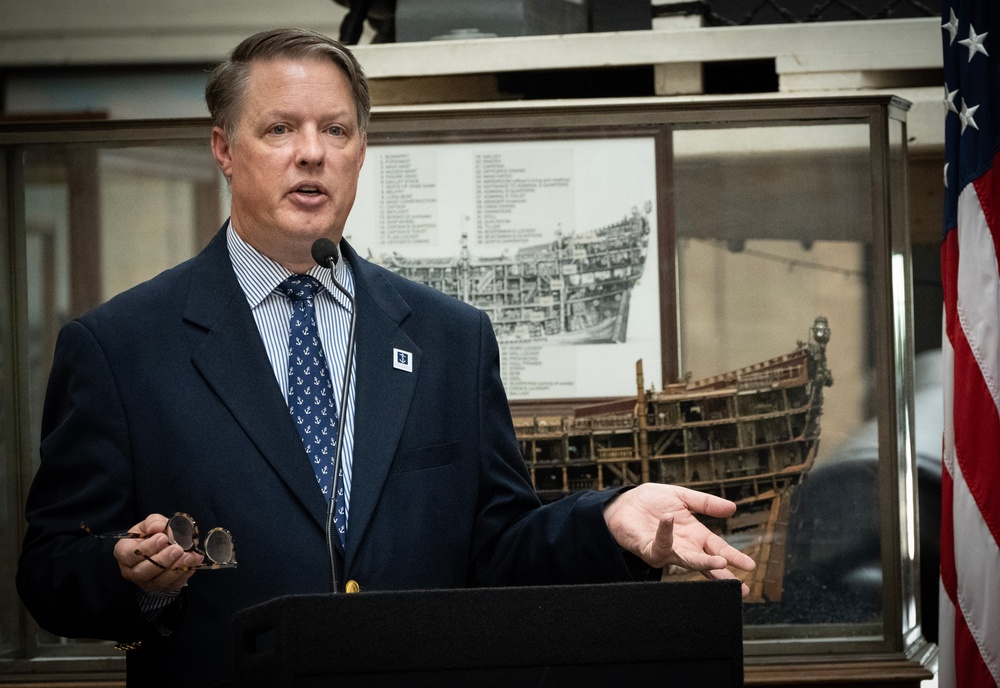 WASHINGTON NAVY YARD, DC, UNITED STATES
08.26.2023
WASHINGTON NAVY YARD — (26 August 2023) National Museum of the U.S. Navy Director John Swift welcomes the Escort Carriers Sailors and Airmen Association (ECSAA) visitors and their families and discusses efforts underway for the new museum. Swift highlighted that the new museum located outside of the Navy Yard would allow the American public easier access for to learn more about naval history, such as Escort Carriers. The ECSAA visited the existing National Museum of the U.S. Navy on the Washington Navy Yard, Aug. 26, as part of the organization's annual memorial service and membership meeting. With the passing of so many WWII veterans and so few remaining on their ECSAA rolls, the group came to the nation's Capital with mission to honor their fallen shipmates and to refocus their efforts from a reunion mission to one of historical preservation. Once the memorial service remembering those who passed since their last reunion was complete, ECSAA Board of Governors President David Ryan asked the attending members to vote for decommission the ECSAA's reunion mission and refocus the organization's efforts on historical preservation. With vote the confirmed, the organization presented Naval History and Heritage Command Director Samuel Cox with donated artifacts from the family of John William Houlihan, who was a radioman / gunner with VC 10 flying off the USS Gambier Bay (CVE 73). Included in the donation were Houlihan's Bomber jacket, two Navy uniform tops, and his Crossing the Equator certificate which he just happened to send home stateside before the Gambier Bay was sunk. In addition to Houlihan's pieces, 100-year-old veteran Robert Kruger who attended the ECSAA event donated a plank of wood from the flight deck of USS Bogue (CVE 9) where he served in WWII. For more information on donating artifacts to Naval History and Heritage Command, visit https://www.history.navy.mil/get-involved/donate-materials.html.
| | |
| --- | --- |
| Date Taken: | 08.26.2023 |
| Date Posted: | 08.29.2023 14:25 |
| Photo ID: | 7994737 |
| VIRIN: | 230826-N-MF696-1001 |
| Resolution: | 4356x2998 |
| Size: | 3.37 MB |
| Location: | WASHINGTON NAVY YARD, DC, US |
| Hometown: | WASHINGTON, DC, US |
---
| | |
| --- | --- |
| Web Views: | 51 |
| Downloads: | 2 |
---
PUBLIC DOMAIN
This work, NHHC Receives Escort Carrier Artifacts from WWII Veterans, Families [Image 39 of 39], by Monica Mccoy, identified by DVIDS, must comply with the restrictions shown on https://www.dvidshub.net/about/copyright.