USACE Command Sgt. Maj. visits Tulsa District for listening tour [Image 4 of 6]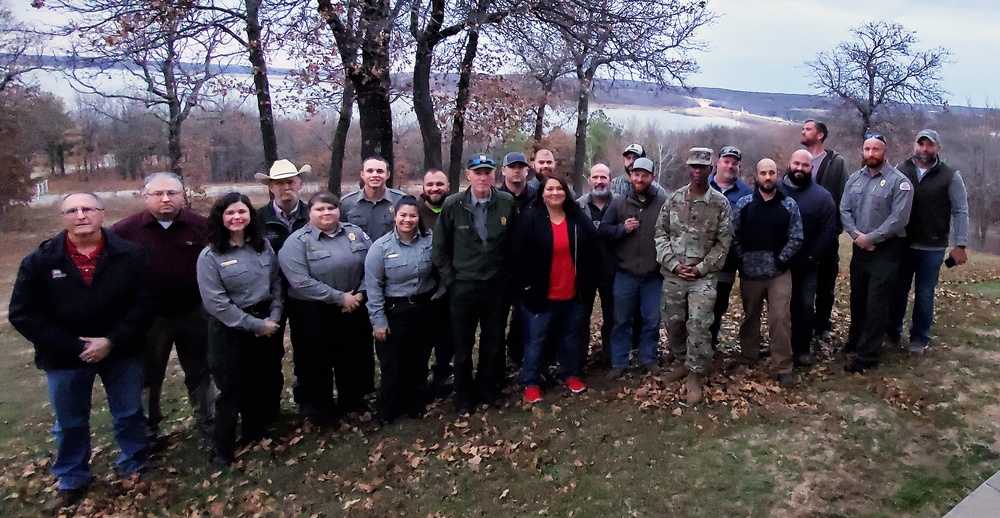 OK, UNITED STATES
12.07.2021
U.S. Army Corps of Engineers Command Sgt. Maj. Patrickson Toussaint visited Tulsa District Dec. 6-9 for a listening tour. The intent was to share with USACE members the mission vision of USACE Commanding General and Chief of Engineers Lt. Gen. Scott Spellmon, who has been in the position since Sept. 2020. Toussaint visited Tinker Air Force base in Oklahoma City, the SWT Headquarters in Tulsa, and the Oologah, Keystone, Tenkiller, Fort Gibson, R.S. Kerr, and Eufaula Project Offices conducting Town Halls with the workforce. During the Town Halls, Toussaint explained Spellmon's philosophy that Army Civilians should know their value, the value of what they do, and how it contributes to the overall USACE mission and purpose. He also did question and answer sessions with the workforce to hear legitimate concerns about issues preventing them from doing their jobs and to receive feedback about Army policies. Toussaint said his philosophy is that the purpose of the Office of the Command Sgt. Maj. is to support the workforce and he plans to share the concerns and feedback collected with USACE leaders. Pictured here the CSM with the Keystone Lake Project staff.
| | |
| --- | --- |
| Date Taken: | 12.07.2021 |
| Date Posted: | 12.10.2021 19:15 |
| Photo ID: | 6974746 |
| VIRIN: | 120721-A-VS667-011 |
| Resolution: | 3013x1562 |
| Size: | 4.4 MB |
| Location: | OK, US |
---
| | |
| --- | --- |
| Web Views: | 29 |
| Downloads: | 2 |
---
PUBLIC DOMAIN
This work, USACE Command Sgt. Maj. visits Tulsa District for listening tour [Image 6 of 6], by Sara Goodeyon, identified by DVIDS, must comply with the restrictions shown on https://www.dvidshub.net/about/copyright.
GALLERY
MORE LIKE THIS
CONTROLLED VOCABULARY KEYWORDS
TAGS