Navy Medicine Priorities Praised and Proven in the Pacific Northwest [Image 8 of 8]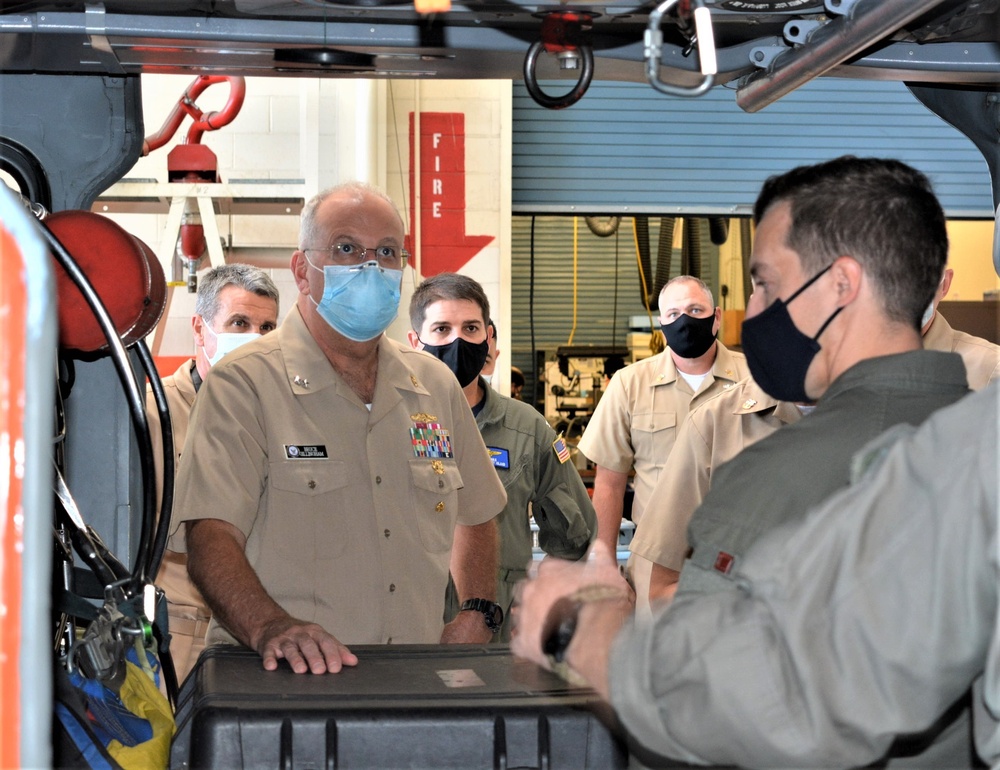 OAK HARBOR, WA, UNITED STATES
08.24.2021
Rear Adm. Bruce Gillingham, Navy surgeon general and chief, Bureau of Medicine and Surgery receives a hands-on briefing from aviation medicine technicians assigned to the Naval Air Station Whidbey Island Search and Rescue team as part of his two-day tour of Navy Medicine commands in the Pacific Northwest, which focused on Naval Health Clinic/Navy Medicine Readiness and Training Command (NMRTC) Oak Harbor and NMRTC Bremerton. Gillingham, along with Force Master Chief Michael Roberts, Director of the Hospital Corps, met with leadership, greeted Sailors, addressed staff questions and familiarized themselves with the two commands which have been at the fore of much dynamic change in the last several years. From initially deploying the new electronic health record MHS GENESIS in 2017, to helping stop the spread of COVID-19 in the third largest fleet concentration area in 2020 on through today, to transitioning administration and management responsibilities of their military treatment facilities in 2021 to the Defense Health Agency, both installations continue to meet the needs of their patient population(s) and serve as a ready medical force to ensure there's a medically ready force for any operational commitments (Official Navy photo by Patricia Rose, NHC/NMRTC Oak Harbor public affairs).
| | |
| --- | --- |
| Date Taken: | 08.24.2021 |
| Date Posted: | 08.24.2021 18:24 |
| Photo ID: | 6800814 |
| VIRIN: | 210824-N-QW572-009 |
| Resolution: | 2596x2000 |
| Size: | 861.75 KB |
| Location: | OAK HARBOR, WA, US |
---
| | |
| --- | --- |
| Web Views: | 54 |
| Downloads: | 3 |
---
PUBLIC DOMAIN
This work, Navy Medicine Priorities Praised and Proven in the Pacific Northwest [Image 8 of 8], by Patricia Rose, identified by DVIDS, must comply with the restrictions shown on https://www.dvidshub.net/about/copyright.