MCI West Christmas Eve Service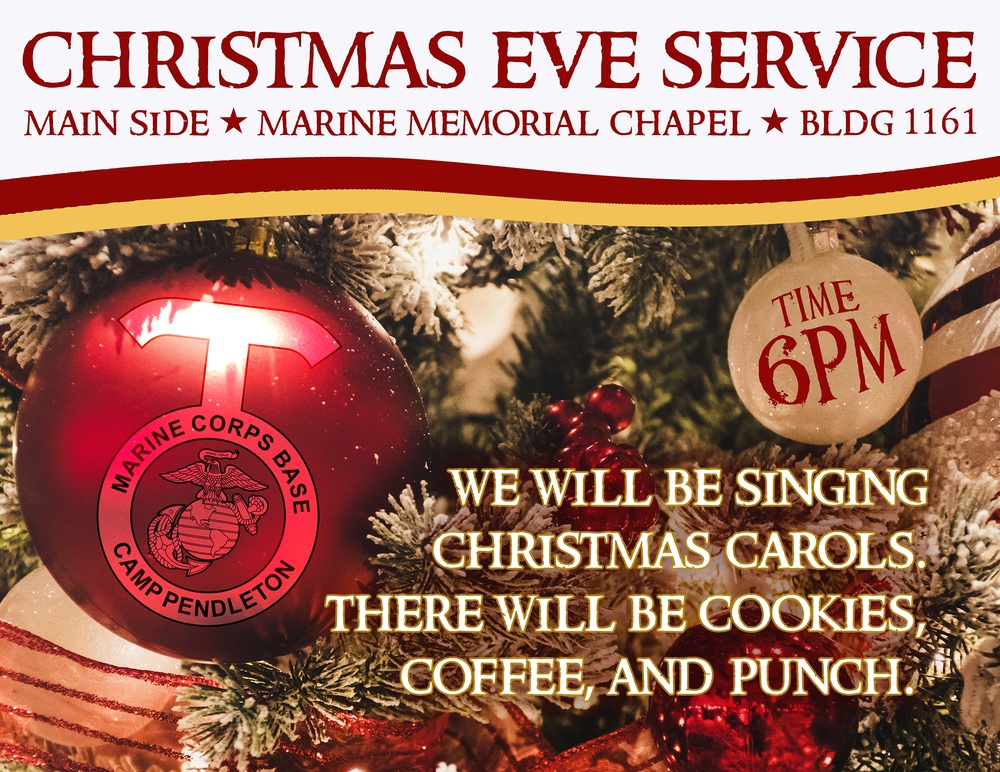 Graphic reads "CHRISTMAS EVE SERVICE; MAINSIDE (star) MARINE MEMORIAL CHAPEL (star) BLDG 1161; TIME 6PM; WE WILL BE SINGING CHRISTMAS CAROLS. THERE WILL BE COOKIES, COFFEE, AND PUNCH. The layout included a white graphical wave style top banner area with text in dark red and a thin dark red and gold wave line outlining the white banner area. A photo of a Christmas tree with ornaments covers the background. The time and a Marine Corps Base Camp Pendleton logo are on ornaments. Additional text pertaining to event is also overlayed onto photo. The graphic is an advertisement to announce a Chaplains Office event being conducted on December 24, 2021. The graphic was created on November 23, 2021 at Communication Strategy & Operations, Marine Corps Installations West, Marine Corps Base, Camp Pendleton, Ca. and intended for use by Marine Corps Installations West Chaplains Office. (U.S. Marine Corps graphics by David G. Smith).
| | |
| --- | --- |
| Date Taken: | 11.23.2021 |
| Published: | 12-03-21 07:59 PM |
| Graphic ID: | 17736 |
| VIRIN: | 211123-M-VL690-001 |
| Size: | 3.03 MB |
---
PUBLIC DOMAIN
This work, MCI West Christmas Eve Service, by David Smith, identified by DVIDS, must comply with the restrictions shown on https://www.dvidshub.net/about/copyright.
CONTROLLED VOCABULARY KEYWORDS
TAGS