Once Upon A Time in a Far Off Land ...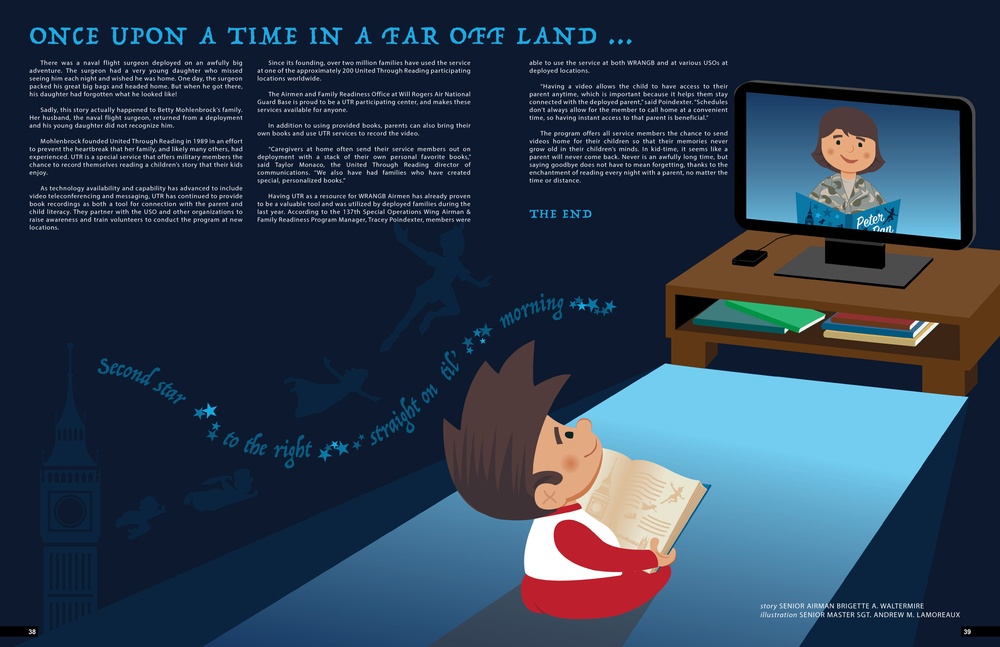 This Peter Pan illustration was created to show the magic that the United Through Reading program provides to deployed parents who record themselves reading to their children prior to or during a deployment. This Adobe Illustrator drawing was used as part of a layout in the 137th Special Operations Wing's digital publication that highlights equipment around the Wing that members may not know about or know that they have access to. I chose shades of blue overall to represent an evening feel when children are most likely to miss their parents the most. I chose a female deployer because there is not a bond more special than a mother with her child. They are both reading Peter Pan which I felt nicely represents brave children navigating tough situations but always remembering family and their special bond together. I used repetition of the London skyline with both books and illustrations on the wall to represent the mother and child both being lost in the same world, together. Finally, I used the famous "Second star" quote to represent that we all take deployments one day at a time and we keep going "straight on" until our families are united again.
| | |
| --- | --- |
| Date Taken: | 05.25.2017 |
| Published: | 12-07-17 03:49 PM |
| Graphic ID: | 1173 |
| VIRIN: | 171207-Z-HL234-001 |
| Size: | 773.91 KB |
---
| | |
| --- | --- |
| Web Views: | 24 |
| Downloads: | 4 |
---
PUBLIC DOMAIN
This work, Once Upon A Time in a Far Off Land ..., by Andrew LaMoreaux, identified by DVIDS, must comply with the restrictions shown on https://www.dvidshub.net/about/copyright.
CONTROLLED VOCABULARY KEYWORDS
TAGS